The Simple One
Ideal for water-based applications, the Flat Bed Band Filter Systems are fully automated, yet still economical systems.
The BFI – Flat Bed Band Filter System can be equipped with an integrated sump, or coolant can dump directly onto the filter bed. like the deep Bed Band Filter Systems, these models also use a float switch to transport the media.
Like all HOFFMANN systems, a number of options and accessories are available for our BFI Flat Bed Band Filters, so that you can customize the system to your exact specifications.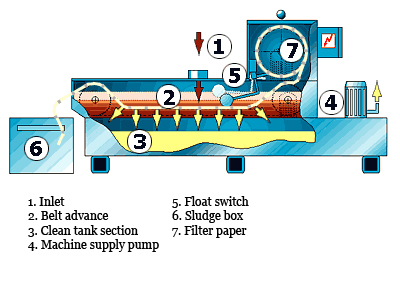 Details
Steel grinding
O/D grinding
I/D grinding
Ideal for water-based coolants
One of our most economical filtration solutions
Fully automatic operation
Coolers
Magnetic separators
Fine filter vessels
Oil skimmers
Capacities
BFI-60
BFI-100
BFI-160
Tank volume
60 Gallons
83 Gallons
150 Gallons
System Flow Rate
15 GPM
25 GPM
40 GPM
Filter Area
6 sq. ft.
8 sq. ft.
10 sq. ft.
Filter Media Width
20″
28″
39″
Coolant
Water-based
Water-based
Water-based
Media Feed
Automatic
Automatic
Automatic
Optional Accessories
Magnetic Separator
MA 100
MA 100
MA 160
Mist Collector
DT 20
DT 20
DT 40