The Original
Thanks to a compact design and low operating cost, the HSF Suction Belt Filtration System has become a global market leader for gear grinding applications. Fitted with a custom-made continuous filter belt, the HSF is able to achieve a superior level of filtration while maintaining a steady supply of coolant to your machine tool.
During the filtration process, coolant is drawn through the filter belt. The particulates are captured on the surface of the filter belt while clean coolant is able to flow through the belt and into the clean tank, from where it is cycled back into the machine tool. The particulates form a filter cake, which is also an aid in the filtration process. After a defined differential pressure is reached, the filter automatically regenerates by briefly breaking the vacuum and advances the filter belt. The filter cake advances forward with the belt to the drying station before being discarded into the chip cart. A cleaning brush and rinsing system clean the belt at the discharge. The filtration capacity exceeds the required supply, which means the clean tank always has enough coolant to allow a continuous supply to the machine tool with no downtime.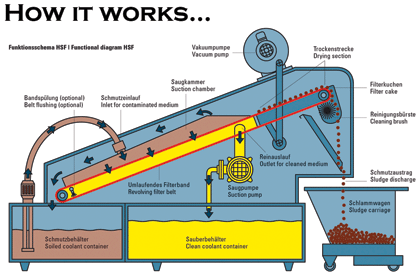 For filtering grinding oils and emulsions
For high surface precision grinding
For single and central plants
Details
Gear grinding machines
Profile grinding machines
Filtering using a reusable filter belt allows for a very low overall operating cost with almost no consumables
Supplies a continuous supply of clean coolant with no downtime
Excellent filtration quality
Very dry filter cake with minimal residual moisture
Compact design with small footprint
Filter Type
Oil

100 SSU at 100° F

Emulsion

32 SSU at 100°F

Filter Belt Width
HSF 100
55 GPM
60-80 GPM
39 in.
HSF 150
80 GPM
90-120 GPM
39 in.
HSF 200
110 GPM
120-150 GPM
39 in.
HSF 300
160 GPM
170-200 GPM
59 in.