The Green One
The Centrifuge Coolant System offers a different approach to cleaning cutting fluids and separation. With an integrated sump, the dirty cutting fluid is sent to the spinning centrifuge bowl where the solid material is thrown to the side of the bowl at forces exceeding 1000 G's.
Unlike traditional filter systems, the centrifuge coolant system does not use disposable media, making it one of our most environmentally friendly filters. Instead, the system is designed to allow the user to reclaim the separated product. This is especially useful with carbide, steel, glass, ceramics, and any other application that uses materials with a higher reclaim value.
Hoffmann Filter offers two types of manual centrifuge systems and an automatic centrifuge system. The automatic system sends the centrifuge into a cleaning cycle, and the solid material is dropped into a container where it can be disposed or reclaimed.
Tanks for the centrifuge system are custom made to suit your needs exactly. Optional equipment for the centrifuge systems includes fine filtration bag systems, magnetic separators, and chillers.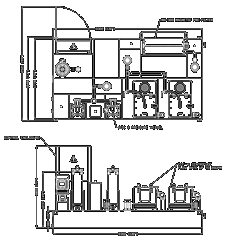 Details
Glass
Ceramics
Steel
Carbide
Able to reclaim filtered out material
No disposable filter media used
Available in manual and fully automatic versions
Coolers
Magnetic separators
Fine filter vessels
| Model | Flow Rate into Bowls (GPM) | Number of Bowls | Bowl Liner Material |
| --- | --- | --- | --- |
| CCF-21 | 12 | 1 | Buna |
| CCF-41 | 20 | 1 | Aluminum |