UBF – The Indestructible One
For applications with a high stock removal rate, and where fine filtration is required, nothing is more efficient than the Hoffmann Suction Band Filter System.
The UBF is extremely versatile, able to work with either oil or water-based coolants, and is excellent as either stand-alone or central filtration systems.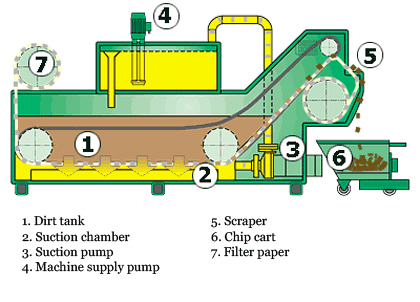 Fully automatic and easy to use, the Suction Band Filter pulls coolant through a filter media. This is done using the suction pump, which creates a low pressure area in a chamber below the media. When a specific vacuum is reached, the vacuum is released and the media transports automatically.
To set us apart from our competitors, the Hoffmann UBF – Suction Band Filter System uses a stainless steel wedge-wire screen to divide the dirty and suction chamber of the filter. To improve efficiency, our screen helps to prevent the filter paper from tearing, unlike standard perforated metal screens. The filter paper rests on the screen and the inclined discharge, where it serves as the primary filter and as support for the growing filter cake. By using a thicker filter paper and allowing a cake to build on it with the high stock removal, the UBF system is capable of achieving nominal filtration rates of 15 microns and below.
For filtering all types of fluids

For separating solids from fluids
For many different industrial applications
Details
Automotive industry
Aerospace industry
Washers
Drilling machines
Milling and turning machines
Grinding
Honing
Polishing
Steel Mills
Galvanizing Lines
Roll Grinders
Ability to separate filter cake from filter media during disposal
Durable and easy to operate
Continuous supply of coolant to your machine(s) without downtime
Available as both single and stand alone systems
Media rewinder
Cooler and/or heat exchanger
Drying station
Fine filtration vessels
UBF Model
Flow Rate GPM
(based on water)
Filter Area Square Feet
Approximate Dimensions
(W x L)
UBF 50
30
5
56 x 100″
UBF 100
60
10
56 x 130″
UBF 150
90
15
56 x 150″
UBF 200
120
20
56 x 170″
UBF 300
180
30
56 x 220″
UBF 400
240
40
56 x 260″
UBF 500
300
50
56 x 300″
UBF 600
360
60
120 x 220″
UBF 800
480
80
120 x 270″
UBF 1000
600
100
120 x 300″